Between two end PCs in a WAN or between a user and a server in the internet, there lies a vast list of equipment such as switchers, routers, firewalls, IDSs, etc., all working 24 hours a day, seven days a week and following various disparate technologies such as Ethernet, WLAN, E1/T1, DSL, SDH, FDDI, ATM, etc.; and, all aimed at ensuring that the end systems or users send and receive their required data without any loss, disruption or hassle.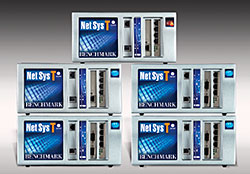 Understanding how the entire system works seamlessly in the network is always a thrilling experience for students. The Benchmark NetSys-T – Network Systems Lab – brings this system-level experience to users in a lab environment. Diffusing boundaries between voice and data, wired and wireless, LAN and WAN etc., the Benchmark NetSys-T helps its users to get the feel of a realistic end-to-end network service in a lab environment.
Features
Facilitates emulating a real world computer network within a lab
Backbone realization using IP routers
Wired LAN realization using HUB, Layer 2 & Layer 3 switches, Firewall
Wireless LAN realization using Access points
In-depth understanding of router protocol performance, firewall, Layer 3 & Layer 2 switch concepts, wireless LAN performance, RF Survey of wireless Access Points
Separate Ethernet port for equipment management and monitoring purposes – Montoring of key protocol packets such as "update" in RIP, "hello" in OSPF without the need to tap the routing ports
Formatted routing table information available periodically to identify the route changes that takes place in real time
Routing Table information "Save" option facilitates analysis at later stage
RS232 serial ports with upto 1Mbps data rate and Fast Ethernet ports for WAN interface in routers
Firewall and Layer 3 uses IPTables rules and can be tagged with a name for the user to identify the rules set in use
Fast Ethernet interface for outside network, DMZ and inside network in firewall
Built-in LAN ports for ease of use while experimenting
Provides a challenging environment to understand and handle the network security related issues
Comprehensive experiment user manual
Experiments
Shared and switched bandwidth utilization in LANs using Hub and switches
Throughput measurement using file transfer in shared and switched connectivity with Hub and switch respectively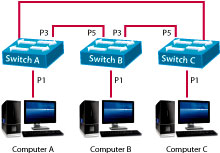 LAN realization using Layer 2 (L2) switches and demonstrating key aspects of the Ethernet protocol
Observe MAC table formation in switches
Create loop conditions and observe loop prevention in spanning tree protocol (STP)
VLAN realization using Layer 3 (L3) and L2 switches and demonstration of inter VLAN routing
Demonstration and performance measurement of routing protocols (RIP, OSPF)
Establish a WAN connectivity with 3 routers and demostrate:
1, RIP performance – with Hop Count as cost
2, OSPF performance – with Bandwidth as cost
Measure throughput using FTP sessions – under background traffic
Convergence time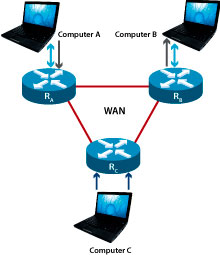 Network access control in a LAN/WAN network using L3 switch & router
Implement a security policy in a LAN connected to a WAN-Intra-LAN security and WAN/LAN security
Network security realization using firewall
Radio survey of WLAN design
Measure the radiation pattern of a given access point and suggest a optimum location for the access point
WLAN realization and throughput measurement
Measure the throughput with more number of nodes participation in the WLAN and plot the curve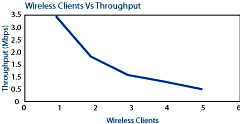 Specifications
Benchmark NetSys-T Routers
Protocol : RIPV2.0, OSPFV4'
WAN Ports :

1.NetSys-T RTR-SFE model:

a, Serial ports – 2 (RS232 upto 1Mbps)
b, Fast Ethernet ports – 1

2.NetSys-T RTR-FE model : Fast Ethernet ports – 2

Management Port : One Fast Ethernet port for device management and protocol packets monitoring
LAN Ports : Fast Ethernet ports – 4
Equipment Management & User Interface : Web browser access for ports configuration, device restart, shutdown, Protocol parameters configuration, Routing Table information – periodic update (every 3 or 1 sec), table saving
Benchmark NetSys-T Firewall/Layer 3 switch
Ports:

1.Firewall Mode

a, Outside network – 1 Fast Ethernet.
b, DMZ – 1 Fast Ethernet.
c, Inside network – 4 LAN ports.

2.L3 Mode

a, Outside network – 1 Fast Ethernet.
b, Inside network – 1 Fast Ethernet and 4 LAN ports.

3.Management

a, One Fast Ethernet port for device management.
b, VLAN Support : Tag based VLAN.
c, User Writable Rules : IPTables rules, NAT/PAT Address translation, Packet filtering.
D, Equipment Management & User Interface : Web browser access for ports configuration, device restart, shutdown, user written rules update, current active rules information display and saving.
Managed L2 switch
MAC Address Table.
Rapid Spanning Tree.
Port, Tag Based VLAN.
Equipment Management :Web browser access for VLAN assignment, device reset, MAC table observation.
Access Points
802.11b/g
Repeater Mode Operation
Variable Power and Channel Selection
Transmit Power : +14dBm
Receiver Sensitivity : -66dBm for 54Mbps
Coverage Area : Indoor upto 100m depending on the obstacles
Ordering Information
NetSys-T RTR-SFE Router with Serial and Ethernet WAN ports
3
NetSys-T RTR-SFE Router with Fast Ethernet WAN ports
1
NetSys-T FWL3 Firewall / Layer 3 switch
1
Unmanaged Layer 2 switch
1
AC/DC adaptors for equipment
1 Set