Matrox Solios is a family of cost-effective frame grabbers for analog, Camera Link® and GigE Vision® image acquisition based on high-performance PCIe® / PCI-X® interfaces. An optional, customizable FPGA-based processing core is available to off-load image processing tasks.
Matrox Solios eV-CL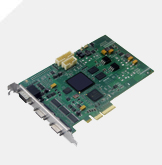 Matrox Solios eV-CL is a value-packed PCIe® x4 frame grabber that supports the full-range of Camera Link® interfaces (dual-Base, single Medium/Full, 10-tap and PoCL) and offloads typical pixel pre-processing tasks.
Benefits
perform deterministic image acquisition by way of the jitter-free Camera Link® interface
eliminate missed frames through a PCIe® x4 host interface and ample on-board buffering
use the most high-performance cameras with available support for 10-taps (eV-CLF/CLFL) at 70 MHz
employ a single board for area and line scan, monochrome and color (Bayer, RGB and tri-linear) acquisition
optimize multi-camera applications via support for two independent cameras per board (eV-CLB/CLBL)
minimize space requirements and maximize PC compatibility through a half-length design with mini Camera Link® connectivity (eV-CLB/CLF) for true single slot operation
reduce system cabling and eliminate camera power supplies by way of Power over Camera Link® (PoCL) support (eV-CLB/CLBL)
free valuable host CPU resources by offloading pre-processing tasks: Bayer interpolation (eV-CLB/CLBL), color space conversion and look-up tables
reduce development and validation costs through a managed lifecycle offering consistent long term availability
implement image capture with ease and confidence using Matrox Imaging Library (MIL) application development toolkit
maintain flexibility and choice by way of 32-bit and 64-bit Microsoft® Windows® XP/Vista®, Windows® 7 and Linux® support
Matrox Solios eCL/XCL-B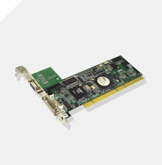 Matrox Solios eCL/XCL-B is an entry-level single-Base Camera Link® frame grabber available for PCIe® x1 or PCI-X®.
Key Features
PCIe® x1 (eCL) or PCI-X® (XCL) low profile half-length card1
handles one Base Camera Link® configuration2,3
provides PoCL (Power over Camera Link®) with SafePower
acquires at up to 85 MHz4
64 MB acquisition buffer
captures from frame and line scan cameras
performs complete image reconstruction from multi-tap cameras3
serial communication port mapped as PC COM port
support for rotary encoders with quadrature output
programmed using Matrox Imaging Library (MIL) sold separately
supports 32/64-bit Microsoft® Windows® XP/Vista®/7 and 32/64-bit Linux®
Matrox Solios eA/XA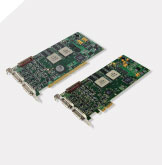 Matrox Solios eA/XA is a high fidelity analog frame grabber with high-performance PCIe® x4 / PCI-X® interface.
Key Features
PCIe® x1 or PCIe® x4 card
up to four fully independent inputs
10-bit A/D converters
sampling rate up to 65 MHz
video synchronization and PLL lock detection
64 MB acquisition buffer
serial communication ports mapped as PC COM ports
programmed using Matrox Imaging Library (MIL) sold separately
supports 32/64-bit Microsoft® Windows® XP/Vista®/7 and 32/64-bit Linux®