Easy-to-use PCB layout editing
Based on production-proven Allegro PCB technology, OrCAD PCB Designer offers powerful features to speed designs from placement and routing through to manufacturing.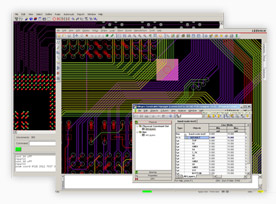 Cadence® OrCAD® PCB Designer contains a fully integrated design flow that includes a constraint manager, design capture technology, component tools, a PCB editor, an auto/interactive router, and interfaces for manufacturing and mechanical CAD.
At the heart of OrCAD PCB Designer is OrCAD PCB Editor, an interactive environment for creating and editing simple to complex multi-layer PCBs. The extensive feature set addresses a wide range of design and manufacturability challenges. OrCAD PCB Designer and OrCAD PCB Designer with PSpice both include Cadence SPECCTRA® for OrCAD, the market-leading PCB solution for automatic and interactive interconnect routing. Designed to handle routing challenges requiring complex design rules, it uses powerful shape-based algorithms for speed and efficient use of the routing area. Optional PSpice® circuit analysis and simulation capabilities integrated with the included OrCAD Capture facilitates rapid design-and-simulate cycles, allowing engineers to explore various design configurations before committing to a specific circuit implementation.
A common database architecture, use model, and library offer fully scalable PCB solutions for both OrCAD and Allegro products, allowing engineers to incorporate more technologies as their designs and design challenges increase in complexity.
Features/Benefits
Offers a proven, scalable, easy-to-use PCB editing and routing solution that grows as needed

Tight, front-to-back application integration increases productivity and ensures data integrity

A comprehensive feature set and a seamless PCB design environment delivers a complete solution to take a design from concept to production