Overview
Matrox 4Sight GPm with Design Assistant is a line of rugged, capable and configurable vision systems for rapid development and deployment onto the factory floor without the need for conventional programming. Equipped with up to four Gigabit Ethernet ports with power and up to four SuperSpeed USB ports, Matrox 4Sight GPm supports the use of multiple GigE Vision® and USB3 Vision™ industrial cameras to keep an eye on one or many production lines. Powered by a range of mobile-class embedded Intel® processors, it has the ability to cost-effectively handle typical multi-camera inspection applications. It can easily directly connect to factory automation equipment and enterprise systems through discrete I/O, Ethernet, RS232/RS485 and USB ports. An industrial-strength design and careful component selection ensure its long term availability.
Matrox Design Assistant Benefits
Tackle typical vision workloads with a mobile-class embedded Intel processor
Employ the right image sensor format, resolution and frame rate for the job by connecting any GigE Vision or USB3 Vision camera
Inspect multiple sites through the support for up to four GigE Vision and up to four USB3 Vision cameras
Simplify cabling for GigE Vision installations using Power-over-Ethernet (PoE) enabled ports
Connect separately to the factory floor and enterprise networks via up to two more Gigabit Ethernet ports
Synchronize with other automation equipment using the integrated real-time digital I/Os with rotary encoder support and RS232/RS485 ports
Install in space-limited hostile environments with a small footprint ruggedized casing
Reduce service stoppages with a fanless design
Employ for the long run with assurance as a result of a managed extended lifecycle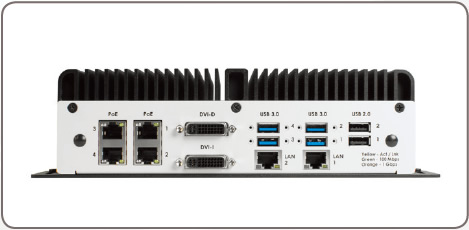 Matrox 4Sight GPm (Ivy Bridge)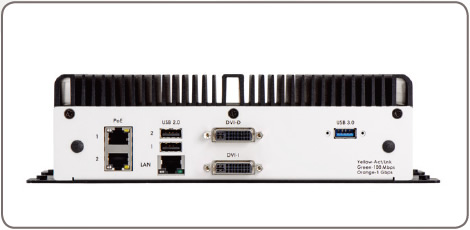 Matrox 4Sight GPm (Bay Trail)
Industries served
Matrox Design Assistant is used to put together solutions for the agricultural, aerospace, automotive, beverage, consumer, construction material, cosmetic, electronic, energy, food, flat panel display, freight, machining, medical device, paper, packaging, pharmaceutical, printing, resource, robotics, security, semiconductor, shipping, textile, and transportation industries.