Constraint-driven PCB design
Allegro PCB Designer quickly takes simple or complex designs from concept to production in a constraint-driven design system. Its scalable based plus options model allows designers to cost-effectively match the technological and methodological needs of small to large companies and projects.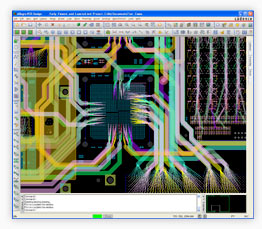 Speeds designs from placement and routing through to manufacturing with powerful features such as design partitioning, RF design capabilities, and interconnect design planning. Production-proven to increase productivity and help engineers quickly ramp up to volume production.
Oriented around team-based development, Allegro Design Authoring allows schematic designers and layout engineers to work in parallel. Users can capture physical and electrical constraints and assign design rules with the embedded Allegro Constraint Manager. Integrated with Allegro AMS Simulator for analog and digital simulation and SI analysis, Design Authoring also offers multiple options for FPGA integration.
Features/Benefits
Provides a scalable, full-featured PCB design solution

Enables a constraint-driven design flow to reduce design iterations

Provides a single, consistent, front-to-back constraint management environment

Delivers an integrated RF/analog design and mixed-signal design environment

Provides interactive floorplanning and component placement

Provides design partitioning for large, dispersed development teams

Enables real-time, interactive push/shove etch editing

Allows real-time plowing/healing with dynamic shape technology

Manages net scheduling, timing, crosstalk, layer set routing, and geometric constraints

Provides proven PCB Router technology for auto-routing of random signals

Enables hierarchical Route Planning to accelerate design completion

Shortens interconnect planning and routing time for dense designs with high-speed interfaces

Outputs design data in a variety of manufacturing formats