An industry standard in schematic design entry
Cadence® Allegro® Design Entry Capture / Capture CIS provides fast and intuitive schematic design entry for PCB development or analog simulation using PSpice. The component information system (CIS) integrates with it to automatically synchronize and validate externally sourced part data.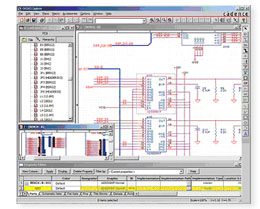 Easy-to-use and powerful, Cadence® Allegro® Design Entry Capture / Capture CIS is the most widely used schematic design solution, supporting both flat and hierarchal designs from the simplest to the most complex. Seamless bi-directional integration with Allegro PCB enables data synchronization and cross-probing/placing between the schematic and the board design. Allegro Design Entry Capture / Capture CIS allows designers to backannotate layout changes, make gate/pin swaps, and change component names or values from board design to schematic using the feedback process. It also comes with a large library of schematic symbols and can export netlists in a wide variety of formats.
Allegro Design Entry Capture / Capture CIS integrates the schematic design application with the added capabilities of a component information system (CIS) and the Cadence ActiveParts Portal.
CIS allows designers to search, identify, and populate the design with preferred parts. With easy access to company component databases and part information, designers can reduce the amount of time spent researching needed parts.
The ActiveParts Portal is an expansion of the existing Cadence ActiveParts online component data solution for access to component information. As part of the new ActiveParts Portal, Cadence is teaming with SupplyFrame, Inc. as the first portal member. In this initial integration, select parts within the SupplyFrame database have schematic symbols mapped to them for placement into a schematic design.
Features/Benefits
Boosts schematic editing efficiency of complex designs through hierarchical and variant design capabilities

Integrates with a robust CIS that promotes the use of preferred, current parts to accelerate the design process and reduce project costs

Provides access to more than two million parts with Cadence ActiveParts, offering greater flexibility when choosing design components